MELSOFT GT Works3
The GOT (Graphic Operation Terminal) screen creation software has been designed with 3 main features; Simplicity, Graphic Design, and Easy Usability further helping to create graphic screens in fewer steps.
Utilize data (Screens)
Individual screens can be utilized from past projects and sample projects. Select screens to utilize, then drag and drop to launch the utilization wizard. Just by following simple step, screen data can easily be utilized.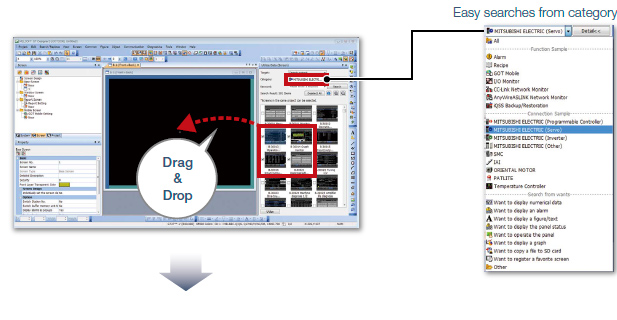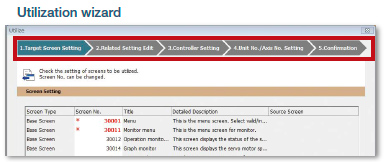 Simple step navigation
1. Target screen setting
The screen number is displayed in red if it is used in the project being edited.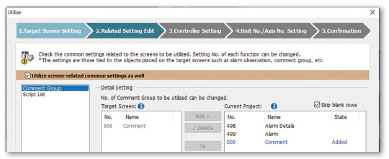 2. Editing related settings
Comment groups and scripts related to the target screen can also be utilized at the same time.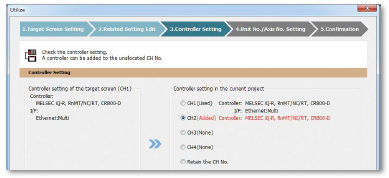 3. Controller setting
Target screen controller settings can be assigned to an empty channel in the currently editing project.

4. Unit No./Axis No. setting
When utilizing screens whose system configuration is different, you can easily change the unit No. and the axis No. of the target screen.
5.Checking setting contents
Procedure: 
Shortcut key: Ctrl + Shift + F
Utilize data (Projects)
When creating a new project, search through the existing projects to find any existing projects that may be reused.
Keyword search helps narrow down the search.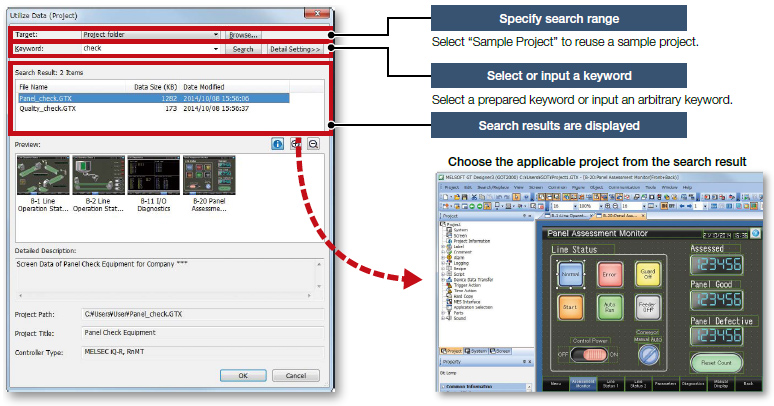 Specify search range
Select "Sample Project" to reuse a sample project.
Select or input a keyword
Select a prepared keyword or input an arbitrary keyword.
Search results are displayed
Procedure: [Project] → [Utilize Data]
Automatic scaling when changing GOT type 
[Upgraded]
More objects are automatically scaled when changing to GOT types with different resolutions. It is now easier than ever to utilize screens of different resolutions, making the work process more efficient.
Target objects: Alarm display, simple alarm display, system alarm display, historical data list display, data list display, recipe display (record list)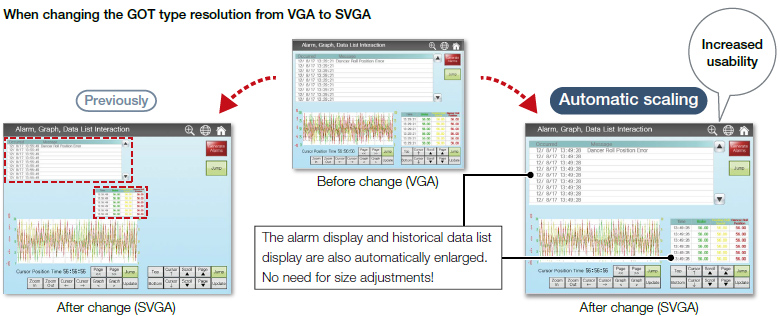 The alarm display and historical data list display are also automatically enlarged.
No need for size adjustments!
Procedure: [Common] → [GOT Type Setting] → [Perform Automatic Scaling on the positions/sizes of figures and objects] → [Option]